I've probably watched more movies this year than all the others combined, considering the extra time with quarantine and all. With my newfound film knowledge, I thought I'd recommend to you some of my favorites, excluding hyper-popular ones like Marvel, since you've probably heard about it three thousand times.
These are all clean movies with minimal profanity, violence, and mature content, but of course my standard of clean will be different than yours, so I highly recommend checking out parental guides before watching any of these.
Also I'm listing them in no particular order.
---
The Giver // sci-fi
Typically I don't like these types of movies, because they're too depressing, but this one shone plenty of rays of hope and offered so many lessons I could apply to my own life.
The book did too, of course, but for once, I was pleasantly surprised. This film was better than the book. Yes, I totally deserve to be put in charge of a herd of squealing sea lions for that sacrilegious comment, but the movie was able to illustrate things that I had a hard time imagining when I read the book. And it offered more clarification in areas I found confusing. AND IT HAD BABY GABRIEL. WHO IS THE CUTEST THING EVER.
*ahem* I would still advise you to read the book first, however, so you have a full understanding of everything that's going on. 😉
Concussion // sport-drama
I was a bit skeptical at first hearing that this is a movie about football, since my knowledge of that sport would make many Americans melt in shame, but this was the most heart-wrenching, captivating, and eye-opening movie ever.
It's a drama about a forensic pathologist who made a controversial link between NFL players' concussions and brain disorders, basically how so many football players are literally dying from the repetitive blows to their head.
And it's a true story. And it needs to be more widely known.
How many mothers and fathers are sending their boys at such a young age to train for this, to fulfill the dream of becoming a champion NFL player like on TV? They at least deserve to know what could happen to their child's brain and make that choice for themselves.
I cannot emphasize enough how much you need to watch this. It's a big issue. Football is a big deal in American culture. But it's not big enough compared to the lives and health of our people.
The Man who Invented Christmas // drama-fantasy
This was actually recommended last year by one of my fellow bloggers, and I watched it, and it. was. amazing. It follows Charles Dickens through his struggle to write his famous tale, The Christmas Carol, and by struggle I mean yelling at his characters, his characters stubbornly refusing to comply, and…as a writer wierdo, it was so relatable and I loved it. If you're not a writer wierdo, my Papa, who is a normal person, thought the story's message of forgiveness and compassion was touching and enjoyed it immensely.
Thank you, Kenechi, for your fabulous recommendation!
Onward // family-comedy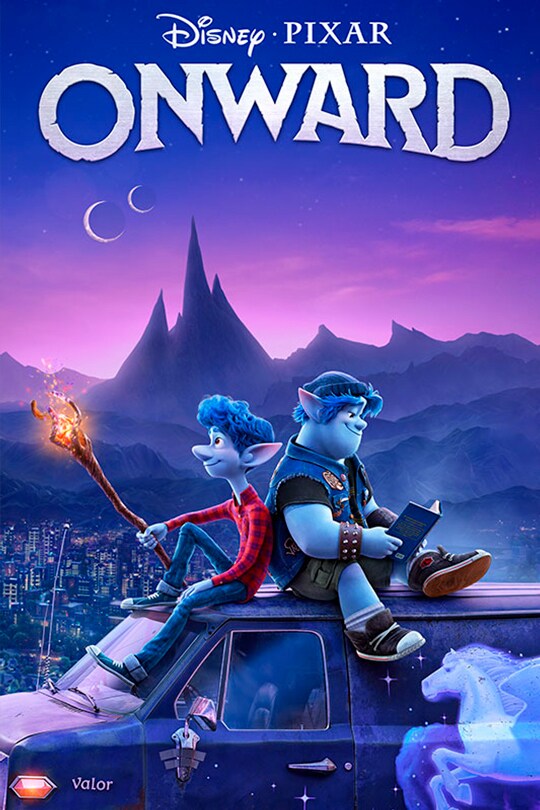 I've never cried in an animated film – until I watched this. The story was so touching, about two elf brothers who go on a magical quest to spend one more day with their late father.
Themes of sacrifice and courage and taking charge. Brotherly affection. Hilarious moments that made me laugh out loud (like wandering pants and punk biker pixies) and heart-wrenching scenes that brought me to tears.
You've got to watch this.
I beg you.
You won't regret it.
The Bourne Series // action-thriller
I know I said I wouldn't include hyper-popular films, and this one is pretty popular, but it was so deliciously clever and captivating I had to include it. It's based on the character Jason Bourne, a CIA assassin suffering from dissociative amnesia who must figure out who he is.
Dun dun DUN. I love amnesia stories and this one didn't disappoint. Bourne is so smart and skilled and it's thrilling to follow him through his thought processes and action. I also appreciated the fact that while he does possess lethal skills, he spends the series seeking to redeem himself from his dark past, and stop being a killing machine. He tries to save as many lives as possible and hates himself for killing in his past.
I think the second and third one are the best, but you do need to watch them in order. And these movies are probably the least clean out of all the ones I've mentioned, with some mature scenes I fast-forwarded, occasional cursing, and moments that might be too violent or intense for you. Again, I recommend reading the parental guides to get a good idea about the content.
Courageous // drama
THIS. This was GOLD. I admit, I didn't have very high expectations for it, since so many Christian movies are cheesy and poorly made, but this gripped my attention from the very first scene. It's a story of honor and loyalty and fathers, illustrating how instrumental they are in the family and how they are called to be courageous, doing the right thing at the cost of ridicule or heavy loss.
I cried in this one too, even though I tried my hardest to be tough and keep a neutral face. I laughed out loud several times against my will. And even though it shares a theme about fathers and young men training to become honorable, I myself came away with a heart ringing in inspiration to be courageous.
---
Have you watched any of these films? Are you going to watch any of these? (let me know if you do!) Do you cry in movies easily? (I don't, I assure you. ) Do you have any movie recommendations for me? What are your favorite movies? Do you prefer saying movies or films? Is there a difference between the two? I hope not because I've been using them interchangeably.
And that's all for today! Happy movie-watching! 😀